Over the years I've attended numerous retro meets and events. Unfortunately, for various reasons, documenting them all through photos or video footage has not been possible, however.
Below, are links to a number of events that I've successfully documented. I do have photos/video from other retro related events, and will be making these available over the course of time.
The Classic Gaming Expo UK 2005



Held at Croydon's Fairfield Halls on Saturday 13th August 2005, the CGE UK 2005 event was the second retro expo held at the venue. This was also an event that almost never happened.

The event was originally going to be part of Gamestars Live, but when the Gamestars show went under it looked like 2005 would mark the end of the Classic Gaming Expo UK. Thankfully, organisers Chris and Christine pulled out all the stops, found a vacant Saturday in August and booked the show back into the previous years' venue, the Fairfield Halls, Croydon.

Click here for for the photo album, which contains a selection of the many snaps I took on the Saturday leg of the expo.



The Arcade Barn - April 2011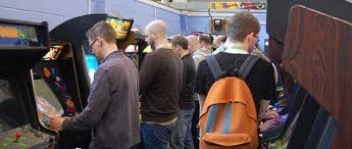 Held at the Arcade Barn in Devon, England, on Saturday 16th April 2011, members of RLLMUK, JAMMA+ and the Retrogamer Forums got together for a day of retro gaming.

Following the success of this event it was hoped that a subsequent Arcade Barn meet would be arranged for 2012, but unfortunately this was not to be. With the costs of running the venue too high for the owners, The Barn closed towards the end of 2011.

The footage was shot with a Flip HD camera. The music playing in the background is a re-vamped version of "Final Take Off", from the Afterburner soundtrack.

Click here to view the footage on YouTube.